Validit.ai has developed a "reliability test" for employers seeking to analyze the honesty of potential recruits
We are all accustomed to assignments during the recruitment process. Sometimes it's a writing test, other times it might be an in-depth in-person interview that lasts longer than most. For Validit.ai, they're betting that one of those stages might be a "reliability test" that employers can send potential workers via a mobile app.
It works like this: employers, generally large retail stores with high turnover rates, ask potential employees to download an app and answer some basic questions while being recorded via their front-facing phone camera. Users are typically asked unexciting questions, such as the day of the week, and instructed to lie in one of them. The test then proceeds to ask further questions that relate more to the individual personality and moral choices in hypothetical situations. After roughly 20 minutes, the test is complete and the user's 'honesty level' is sent to the employer for review.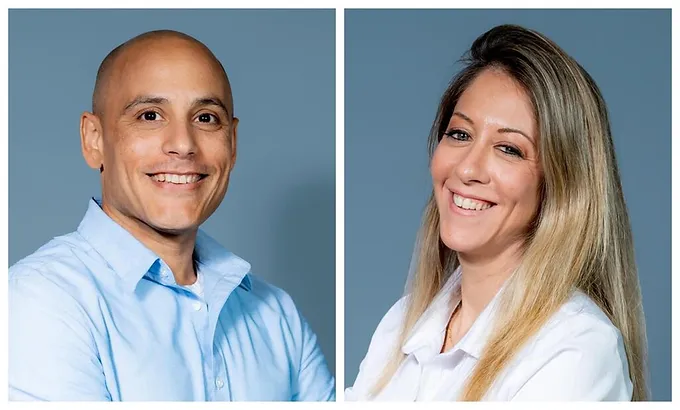 Validit.ai's Yossi Penias and Avivit Yorkevich
(Photo: Hanna Taieb.)
"It is very easy for us to explain our system as polygraph-like, but we are not a polygraph test – that is something different," explained Validit.ai's co-founder and CEO Avivit Yorkevich. "That is something intrusive and invasive. This one is a tailor-made questionnaire that is also using bioscience… This kind of technology is friendly, easy to use, and very intuitive."
Polygraph tests for recruitment are intrusive and invasive, yes, but they are also illegal. Yorkevich is perhaps adamant about avoiding terms like "lie detector" due to the Employee Polygraph Protection Act (EPPA) in the U.S, prohibiting most private employers from using lie detector tests, either for pre-employment screening or during employment. For now, Validit.ai remains a questionnaire with 'polygraph-like' qualities.
Yorkevich retired from Shin Bet, Israel's security service three years ago where she served as a polygraph expert for the terrorist sector and the interrogation department. Later, she worked on helping employees for the Ministry of Defense on obtaining the necessary clearances. She and her work partner Yossi Penias started Validit.ai to bring those skills in sectors such as recruitment, insurance, and possibly even the dating scene.
"Polygraph tests are a science," she said. "When someone is lying, the body's sympathetic system will work pretty hard. There are changes from your baseline and in the bioscience. It is heart rate, respiration, blood pressure, sweat, and more."
To understand better, CTech took a test provided by Validit.ai on behalf of an unnamed retail client who is currently using the system in its recruitment procedures. The test did not feel like a polygraph; there are no cables and no machine clipped to your body. It is a simple questionnaire that CTech was told had learned the facial expressions, tones, and behavior of the participant. In total, it took about 10 minutes and asked us what day it was, if we had ever shared a secret we promised to keep, and whether we feel we can be trusted.
Because this was an internal test, Validit.ai sent us our score directly. It was 95% honest.
Each test costs the employer $29, after which Validit.ai sends a report to them and they decide whether or not to proceed. According to Yorkevich, the threshold is up to the client but they typically accept participants with scores from the 70% mark. The data collected for each test is used to improve the company's machine learning and AI algorithms, but Yorkevich is insistent that the data collected from each test is separated from their ID which is then erased from the company's servers completely, making it GDPR-compliant.
While participation in the questionnaire is never mandatory, it effectively is. Those in need of a job will not make themselves appear secretive by avoiding it at risk of losing their opportunity to work. It means there is an uncomfortable power struggle between the employer and the potential employees which might cause tension in the process.
For other potential future sectors, like dating, Validit.ai wants to "protect you from creeps and from fraud," and yet nothing seems more creepy than completing a reliability test before meeting your Tinder date for the first time. Perhaps someone who agrees to take the test is too creepy to meet. Another sector is insurance, where Validit.ai sees its services being used to check the honesty of claims. The company has time to discover where its services can best be used. Yorkevich has confirmed that the company has no intention of working with governments, so we can all be free of China-like surveillance for a few more years.
"My assessment is that one of the big phone companies will want to acquire us because they already have bioscience which is taking measurements and all kinds of things," she concluded. "This will be an added value for them. Maybe I'm wrong but this is the way I think it will go. It will be there in Samsung, Apple, and Google."
Validit.ai participated in Techstars Tel Aviv earlier this year and also joined HiCenter, the business technology entrepreneurship center in Haifa's Innovation District. The company has already raised $1 million, half from local funds and half from grants and is looking for a new round between pre-Seed and Seed.